The Upper Mill:
Cotton Mill No. 4
Sanborn Fire Insurance Maps of the Upper Mill

November, 1902

September, 1908

Both of the Sanborn Fire Insurance Maps are views of the Upper Mill before construction of the Piedmont & Northern Electric Railway in 1912. Please note that these maps may not be completely accurate.
Cotton Mill No. 4 - 1894

September, 1908 Sanborn Fire Insurance Map
The Pelzer MFG. Co.'s Mill No. 4 was completed in 1894 and contained 55,027 spindles (Oct. 1896 issue of Electrical Doings). Mill No. 4 was 505ft long by 128ft wide and designed and constructed by the Lockwood, Greene & Company along with the General Electric Company. Located on a hill North of the Lower Mill and village, it was an ideal location away from a flood as the mill didn't depend on hydraulic power provided by the river. Mill No. 4 was the first cotton mill with incandescent lighting and driven by electrical power from a long-distance transmission line in the world.
In 1890s-early 1900s, Pelzer was one of Upstate South Carolinas most impressive mill towns. Other mill owners visited Pelzer's advanced cotton mills and mill village. The original 1894 design used ceiling-mounted motors with belts driving mill machinery. Later, during the early 1900s, Mill No. 4 was an experimental ground for new electric cotton mill machinery.
Floors
The cloth room and transformer room were located in the basement which was half the building length and had outdoor access. The 1st floor was split between the picking room and weaving, 2nd slashing and weaving, 3rd carding, and 4th spinning.
Electrical Power
When completed, Mill No. 4 had incandescent lighting installed and over 26 ceiling-mounted electric motors driving machinery on all floors. Electricity was transmitted about 3 miles to the Upper Mill where it entered the transformer room. In the transformer room were nine General Electric 'air blast' transformers, Three 265kW and six 275kW units. From the transformer room, 200 volt currents transmitted electricity to the motors and 114 volt currents powered the lighting.
General Electric Motors
The following information below was gather from Electrical World, Saturday, March 14, 1896
Two 50 HP for the basement ventilation.

Four 75 HP on the first floor for the picking room.

Four 110 HP powering 720 looms on the first floor, 680 looms on the second floor and 5 slashers.

Three 110 HP powering carding on the third floor.

Eight 110 HP powering spinning on the forth floor.

Two 5 HP for pumps.
Warehouses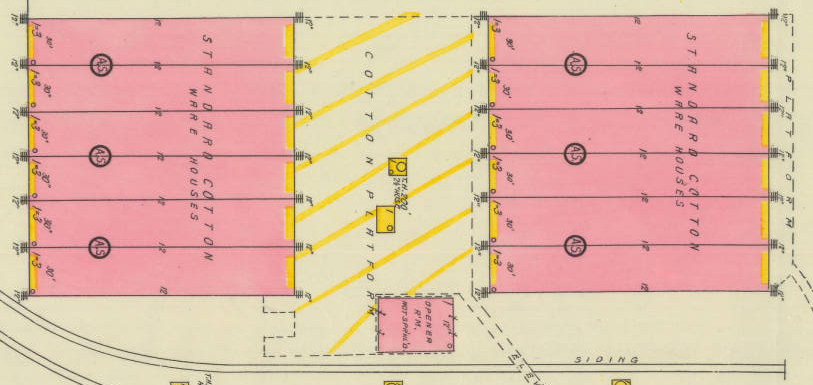 September, 1908 Sanborn Fire Insurance Map
Two cotton warehouses were located on the Upper Mill site. A spur from the Southern Railway serviced Mill No. 4 and later the Piedmont & Northern Electric Railway shared the right of way. Mill No. 4's boiler house was located in a detached building to the right of the mill. Today, part of the warehouse on the right side of the map is still standing on the Upper Mill site.
Images

"Mill No. 4, Pelzer Cotton Mills"

From Oct. 1896 Issue of Electrical Doings

"Carding Room"

From Electrical World, Saturday, March 14, 1896

"Picker Room"

From Electrical World, Saturday, March 14, 1896

"Weaving Room"

From Electrical World, Saturday, March 14, 1896

"Spinning Room"

From Electrical World, Saturday, March 14, 1896

Mill No. 4 during the Kendall Company ownership in the early 1980s. Photo by Bill Cunningham.

The remains of Mill No. 4 in 2010.

Looking toward the Lower Village from the Upper Mill site.

Last transmission line pole on the Upper Mill site.

View of the remaining cotton warehouse.

Sanborn Fire Insurance Maps

Sanborn Fire Insurance Maps from the University of South Carolina Digital Library
Articles
Electrical World - Article provided by www.insulators.info
Electrical Doings - Article provided by www.insulators.info
Jeffrey Kraemer. E-mail: th9200jk@aol.com